Michael Cummins is a very resilient person. After experiencing mobility issues and epilepsy his entire life, he has never let his health defeat him. Michael has been in and out of hospital, dealing with things that no one should have to endure.
And yet, Michael is proud to have started a new life chapter.
Michael's mother, Gail, is his number one support, and has been such a positive force in his life. It is clear that strength runs in the family, as the two have them have faced many struggles together over the years.
This year, they made the choice to move Michael from aged care, to Supported Disability Accommodation (SDA) in Sale. After 16 years, and as someone who requires complex care, this was not an easy choice to make.
"He was safe there; he had trained nurses at the facility, doctors come in really easily." In a house, they were worried that things might be difficult.
Gail decided to submit an expression of interest for SDA, so she could get some more information about it. "Eventually I decided, if we didn't take this, I might regret it, so I knew that I had to give it a go."
To Gail and Michael, it was so important to have a great support coordinator, which is what they found in Headway's own, Nicky Levey.
"I spoke to Nicky and she came on board. She was pivotal in helping us to make the transition from aged care into an SDA.  Nicky spent so much time communicating with the NDIS, applying for funding, preparing for reviews, writing applications and all the other things that have to be done in the process. All in an extremely caring and sensitive way. She has been amazing!"
Gail explains that navigating the NDIS can be challenging for people, even if they have been part of the scheme for years. "You have to know all the lingo, so to have a support coordinator, was invaluable."
By Gail, Nicky and OT Mal joining forces, Michael was able to move to his new home in Sale, where he is supported by a wonderful team of carers.
"I started meeting the staff, and I had a really good feeling about them."
Fortunately, Michael is getting the support he needs, and some of the weight can be taken from Gail's shoulders, who also supports other members of their family.
"He is surrounded by happy caring staff and the delicious aroma of dinner cooking; he just loves the curry they make here. His personal care is wonderful, his room always tidy. This is his home."
Gail and Michael are hoping to share their story, to comfort and inspire other people who may be in a similar situation.
"You hear a lot of negatives. It's good to get a positive from the NDIS. It's good to promote the positives, and this has just been wonderful. We're very lucky, we're very grateful."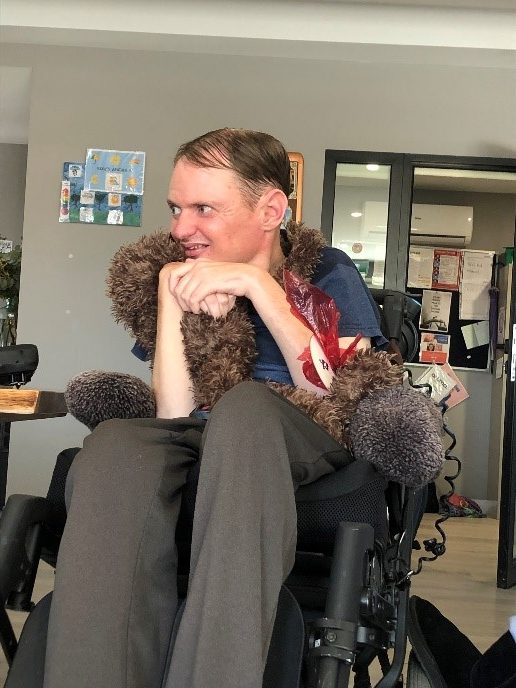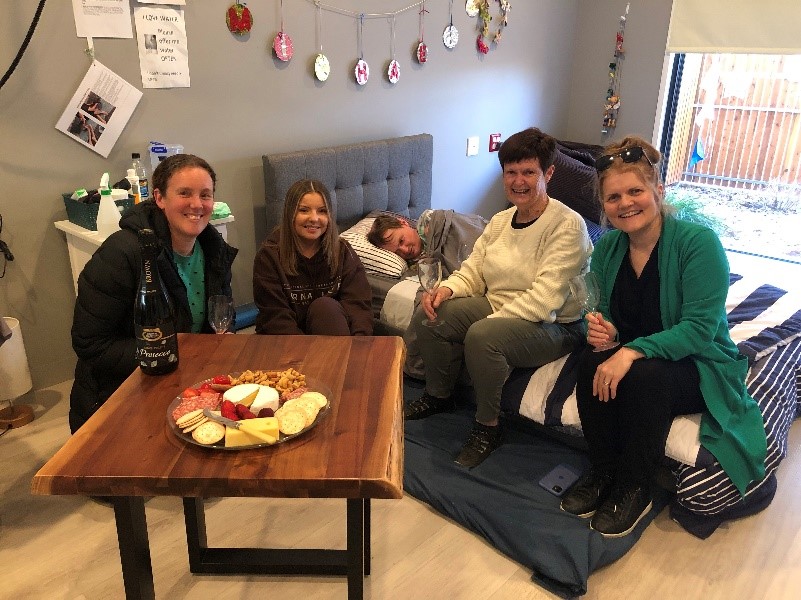 Pictured: Michael, Gail & Nicky celebrating the move with a housewarming party!