2019/2020 AGM
The AGM for year 2019-2020 was held online on Thursday 29 October, 2020.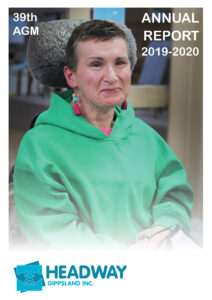 AGM 2018-2019
Monday, October 8 2019
Headway Gippsland's Annual General Meeting was held at the Trafalgar Community Centre on Monday 8th October at 1pm. Phil Drummond from the Bendigo Bank accepted a re-nomination of Board Member Michelle Olsen as Treasurer for the next 12 months. This was the only vacant Board Position this year.  Nomination was approved by members.
After formalities of the meeting guest speaker Michelle Possingham CEO of Lifeline Gippsland provided informative information on Lifeline activities. Statistics presented indicated that 1:5 people have a mental health issue at any one time. this can be in times of crisis, such as relationship breakdown, loss of employment and grief and loss issues.
Lifeline supports people in the community who are doing it tough. Look after yourself is the main message and attend social groups even if it is only the local football which gives an opportunity to socialise and talk to others if you have any issues.  It is quite simple for people to ask "RUK" and just listen and encourage professional help from doctors, counsellors, mental health services and follow up with the person at a later date.
Phone Lifeline: 13 11 14
Jenelle also presented Michelle with flowers and a small gift. During the meeting acknowledgement was given to our small group of volunteers within the Social Support Program and also to support worker John Page who has now decided that after 14 years with Headway he now has to concentrate on supporting his family.