Morwell musician Ned Branchi remembers 8000 people chanting 'Oils, Oils…' while hurling cups and spare change at the stage of a packed gig in the mid-1980s.
His band The Horla were opening for Midnight Oil and among them was Branchi as frontman and Nick Seymour on bass, who later joined Crowded House.
Branchi said his bandmates were "terrified".
"I remember Nick saying to me, 'Man, you better do something to win this crowd'," Branchi said.
"My approach was to get right down at the very front of the stage, put my foot up on the foldback, get right down in their face and just give it to them.
"We had them by the first song. It was a watershed moment for us."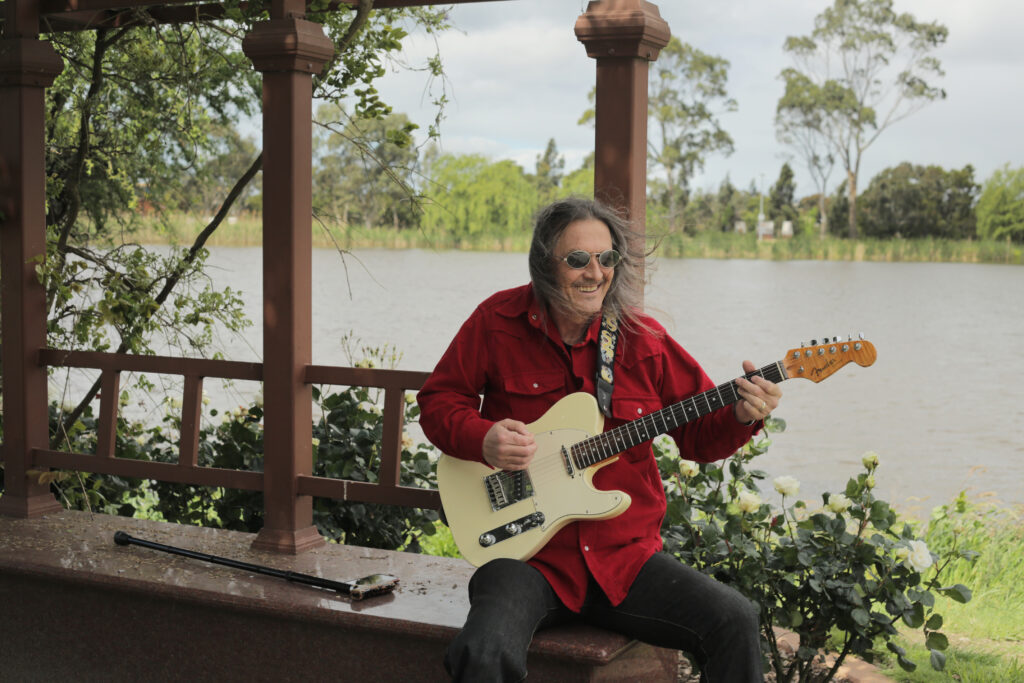 This was not a once-off big gig – Branchi has supported huge acts like Renee Geyer, Hunters & Collectors, New Order, The Scientists, Ganggajang and more.
He had built his career on dynamic performances.
"I can't do that anymore. No more crowd-surfing or stage diving," he said.
A motorbike accident in Indonesia caused Branchi to lose his right leg and shoulder.
"[The bike] double-flipped and landed on me twice – crushed the leg, crushed the shoulder," he said.
"It was night … There was somebody in the middle of the road sitting there waiting to turn right and I couldn't see them until I was right on top of them."
He was in Indonesia doing research as an anthropologist and ethnomusicologist, recording and performing with traditional Gamelan musicians.
At the time, he said his travel insurance had lapsed by only a matter of days and had plans to renew his insurance in Darwin.
He decided to seek treatment at a local hospital – a decision he came to as an anthropologist who believes it a necessity to live like the people he studies.
"It was a disaster," he said.
"It very quickly got infected and there was very poor wound management and that was the reason I lost the leg. I almost lost the arm as well. It was just luck, I think, that I managed to keep the arm."
Today, Branchi lives in Morwell and is a National Disability Insurance Scheme participant with his plan managed by local service provider Headway Gippsland.
"The struggles that people with disabilities have to face are just immense and you won't hear about them that much because few of us will complain," he said.
It took three years before Branchi could strum a guitar again after losing his shoulder.
But even in 2020 with its own setbacks for the music industry, Branchi remains highly engaged in his art after reinventing himself as a musician and working through the pain of playing his instrument.
This year, he has been involved in a live music program on YouTube named The Roadie Show – created by music production crews out-of-work during lockdown.
The same day he was meant to head to Melbourne to film an episode of The Roadie Show, he would pick up his prosthetic leg in Traralgon.
"I spent two hours with the physio and prosthetist doing all the checks and balances and they knew where I was going and they said, 'Take it easy'," he said.
When he later fronted the camera, the presenter introduces him as "Morwell's very own hard-rocking kung-fu monk" – Branchi is an ordained member of the Buddhist community.
"I do seven takes of two songs. I'm dancing and I'm throwing roundhouse kicks at the microphone," Branchi said.
"I get home after about 14 hours on a leg I haven't been on for eight-and-a-half months and had completely exhausted myself."
Though he "paid for it" for about two weeks, he said it was well worth it.
The prosthetic leg became a new way to engage with his audiences and even an "ice-breaker".
"When I first started performing again, I thought 'I have to use the disability … I'm not going to pretend I'm not disabled'," he said.
"I'd sit down and take the leg off and start playing it like a guitar and just crack jokes.
"I want to communicate to an audience, 'this show is going to be painful for me so if I pull some funny face, don't worry about it, it's cool'.
"Every performance, every song, is intended to communicate something to an audience that they'll be able to take away and recollect."
Branchi is also in the process of remastering two of his highest-charting songs from his 1999 album StKilda Sun, 'Chipping At The Mountain' and 'Juliette' to be released on CD and vinyl.
For more, visit nedbranchi.bandcamp.com.