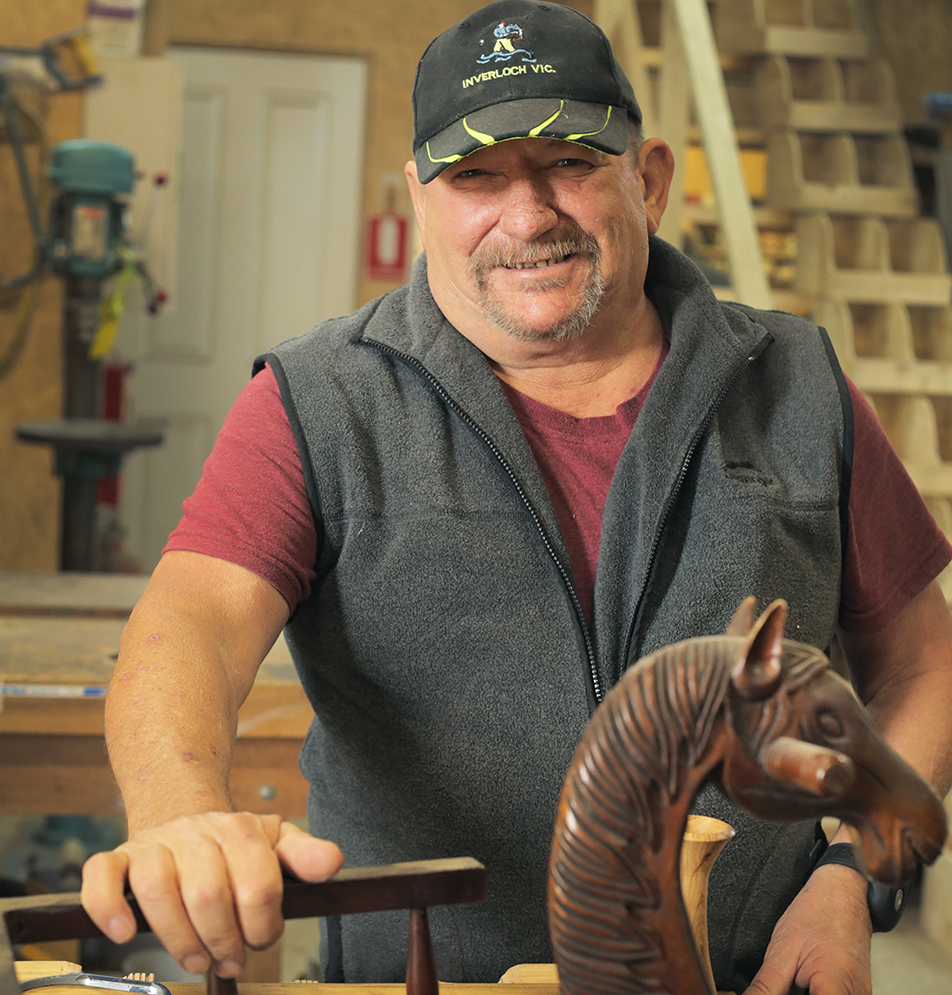 Some kids were playing on a rocking horse that belonged to Ian Jarman's grandson Phoenix when it broke.
Ian, who lives with post-traumatic stress disorder, remembers being determined to save the beautiful wooden toy from landfill.
He was already looking to buy replacement legs when someone suggested he could craft the pieces himself. He would just need to learn the artisan skill of woodturning using a lathe.
Now each Tuesday at the Korumburra Mens Shed, Ian has been making four identical legs so he can give the rocking horse back to Phoenix as a 21st birthday present.
"I'm enjoying every bit of it. It's a great bunch of guys," Ian said.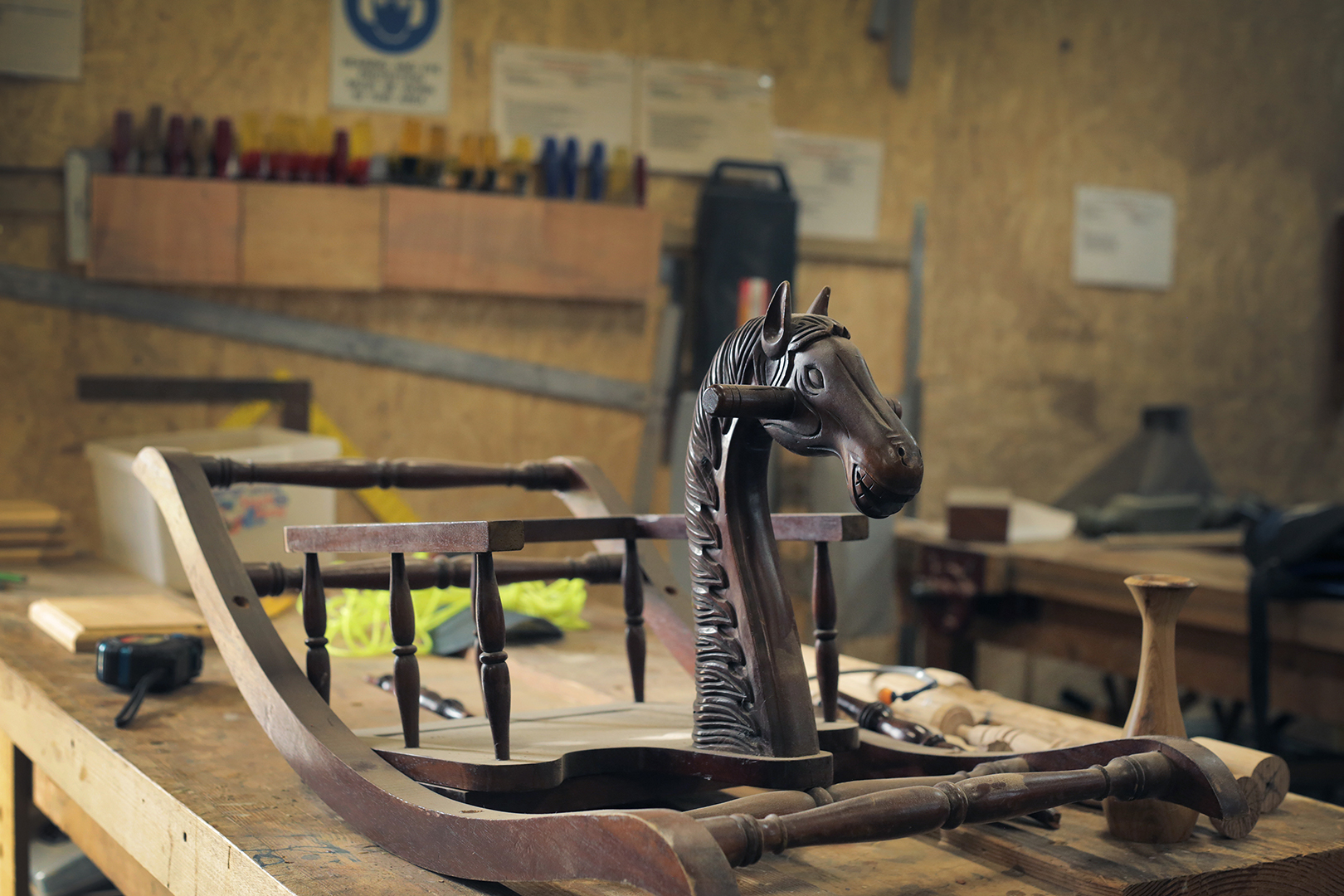 It marks a new era for Ian, who remembers moving to Wonthaggi and not wanting to talk to anyone.
"I just stayed home with my birds. I didn't want to know no one," he said.
About 40 years ago, Ian was driving home from work at the Dromana meat works when a semi-trailer drove into the side of his car.
"I was alright for the time being, when it all happened. The next day, that was it," he said.
"I was in shock or something apparently … If I'd seen a truck, I used to hide behind trees."
Ian said the attitude in those days was "you'll be right". But since then, he has been diagnosed with post-traumatic stress disorder.
"So, for all those years, I just self-medicated on alcohol," he said.
Then eight years ago, things became worse for Ian after he came out of surgery for bowel cancer.
"I wasn't right, I was getting very aggressive … I couldn't remember a lot of things," he said.
When Ian's wife Linda found the National Disability Insurance Scheme, his life started to look up.
Ian now receives support coordination through NDIS service provider Headway Gippsland.
This means a support coordinator helps him to understand how to use his NDIS plan and find the best service providers for his needs.
"If it wasn't for the NDIS and Headway and all that, I don't know where I would have been," he said.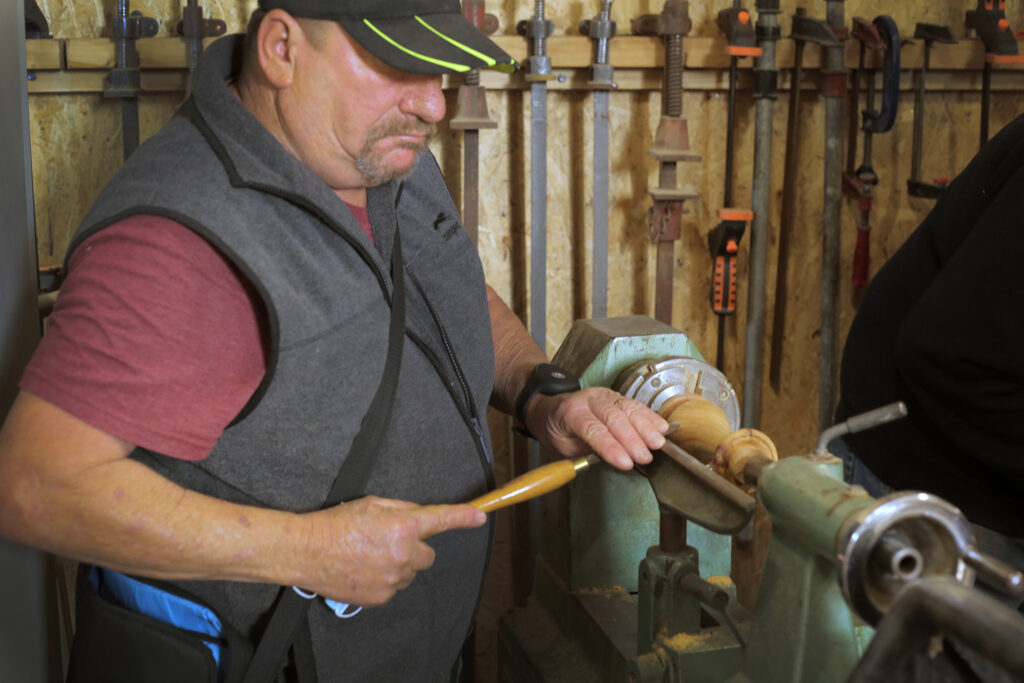 Ian now benefits from seeing an occupational therapist and regular one-to-one support, among other services.
"We might go for a fish … We do what we want to do, we're left alone," he said.
His support includes learning and practising new computer skills like creating spreadsheets.
"I've been trying to learn how to do emails and stuff like that … and I do Messenger and I'm learning how to Zoom," he said.
Most of all, Ian thanks Linda for her unwavering support through very difficult times.
"We've battled on and battled on," he said.